You can tell I was busy last week because I only posted on this thing twice...
But that doesn't really matter, because the number of hours I spent in studio doesn't make good blog material. Neither does talking about a ride on the rollers. Or maybe I'm just assuming that... I don't know that I've ever read a blog about riding on the rollers, it might be the best thing since sliced bread.
Going off on another tangent, I sure am glad nothing better than sliced bread has ever been thought of, because I can't imagine how confusing it would be if we ever had to change that saying.
It's the best thing since apple sauce!
It's the best thing since pre-cooked lasagna!
It's the best thing since non dairy coffee creamer!
It's the best thing since
deep fried chicken skin!
See, just not the same thing...
And now, lets jump back to the original topic...
...
Since I did write about the little bit of interesting stuff that happened last week, and nothing else worth writing about (or so I seem to think) happened since then, I'll write about my weekend! (You're going to thank me for limiting what I'm putting in here, its long enough as it is...)
Friday night Joseph called me and told me not to wait for him if he didn't call me by 6:00 the next morning to tell me he was on his way to get me. I said I would call him instead. He put the limit at 5 times.
Surprisingly, the first time I called he was already awake and actually ended up having to wait for me while I carried all my crap down to his car.
That doesn't really have to so with anything, but I figured I would throw it in since it was completely opposite of how those phone calls typically go...
The first race of the morning was a short ~1.5k time trial.
Up an 18% grade hill.
Along with JT, Michael, and Sean (the other UT As) I went and ride around a bit ans called it a warm up. Then we had some pre race donuts* and went to the start line. I went a little too hard up to the hill, and I think it caught up to at the top, but I still had the second fastest time of any UT rider (one of the guys racing Cs beat me!) and ended up placing 8th.
*Clearly we were trying to win the P12 state championship road race. Or maybe we're just cooler than the other teams and don't mind having a little side of fun along with our racing.
After lunch it was time to head to the Tx. State campus for our crit. Sometime during the day, the wind had decided to pick up, and was probably up to about 25mph by time we were racing. We did another group warm up, had some more donuts, and headed off to the start line again.
The course was hard. The way the wind was blowing made a downhill the slowest part of the course (yeah, it was blowing that hard...) and for the rest of it, my average speed was probably around 23mph. Including the corner with a ditch running through it.
I felt alright, but still got dropped pretty early, and rode around by myself for about 30 minutes before getting pulled. I beat people though, so I do suppose everything is good.
I headed back home, had some dinner, went to studio, slept, and got up again pretty early to drive out to
the middle of nowhere
Warda for some mountain bike racing action!
After racing the day before, I had no idea what to expect. During my warm up though, I actually felt surprisingly
good
well, and that just confused me even more about how I should approach the race.
I started off pretty easy, and by about half way through the first lap got to the front of the pack and started working on the bridge up to the four or so guys already up the trail. I could tell I wasn't quite all there, because I just wasn't catching up as easily as I thought I should be able to. But by about the same point on the third lap, I was ahead of everyone but Chris (the guy who beat me at Bar H).
Unfortunately, I think I worked a bit too hard getting there, and on the fourth lap my race changed from trying to catch Chris into a struggle to stay ahead of everyone else. It was going good until the last couple miles (where the only hills on the course are). I had nothing left for the climbs, and Eric caught up to me. He was barely going faster than me (I think), and didn't come by.
It was going to be sprint finish. And it was. After we were done, no one could tell us who had won, and I'm still not sure how the officials decided, but they gave it to him... By 1/100 of a second.
That put me in third. Chris beat us by about 4.5 minutes! (He must've been mad at me for beating him at Waco.) Overall though, I was very happy with the race. I don't think I'll be doing any more multiple-race race-weekends this spring though.
Go go pictures!
Crit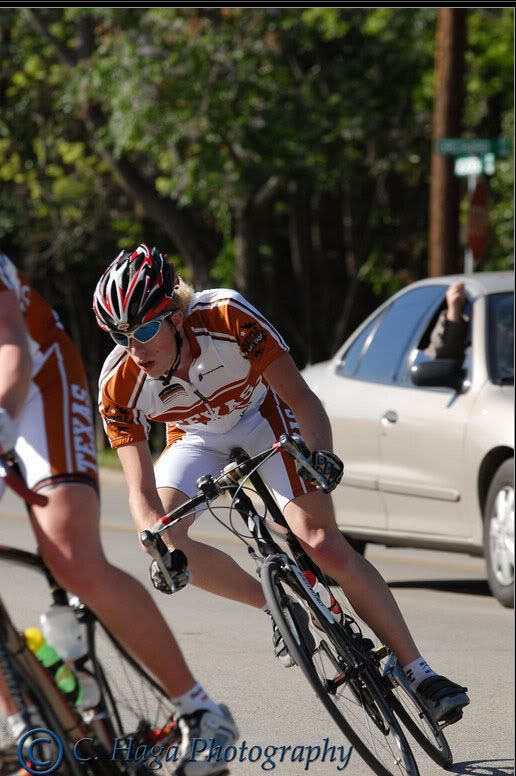 Warda