I never thought I would say that I enjoyed a Camp Eagle race. Particularly a muddy Camp Eagle race, but this year for the first time, CAMP EAGLE WAS AWESOME!
Saturday morning was the Super D, and I had a good start and was right up there with the front of the group. Then I got boxed in at the finish... By that point there were only three of us though, so I wasn't too bothered by having to sit there and watch the sprint for first and second. The three of us had the fastest times out of anyone who did the race though! So, thats something.
There was supposed to be a short track that evening, but after an afternoon of torrential rain, it was cancelled/we all opted out of racing it. Whatever.
By Sunday the course had actually started drying out, but the rocks were still
SLIIIICKK
. I had a good start again and was sitting third until the leader slid out on some rocks and me and second got around him. We started getting to the technical stuff, and I went with playing it safe through the rocks. The new leader got away from me, and for a while I was worried that I would never see him again.
Starting the second lap though, I was finally able to see him, maybe a minute or two in front of me, and he looked slower than I was feeling! I picked up the pace
some
quite a bit and reeled him in about the time we were getting to the rockiest part again. I decided that I was just going to go for it, and laid the hammer down. Then I started catching sport racers. In the technical stuff. Most of them were off their bikes or fumbling around and about to be off, so it wasn't hard to get around them, and listening to them all being like "WOAH how are you doing that?!?!" was some great motivation to just. Go. Faster!
I started feeling my legs about a mile or two from the end, and lets just say it would have been bad if anyone I was racing against had caught me...
I kept going as much as I could, and the finish line actually came up quicker than I was expecting it too. I zipped up the jersey, threw up my arms, and it felt good.
Then I went and laid down in the dirt and that felt good too.
I had no idea what to expect when they put the results up. Well, I knew I had won, but not how much I had won by.
NINE.
MINUTES.
The guy who had won the Super D got 3rd also, which put us in a tie for the overall results for the weekend. Luckily, the Cross Country ranks higher, so I got the tie breaker and won the overall too!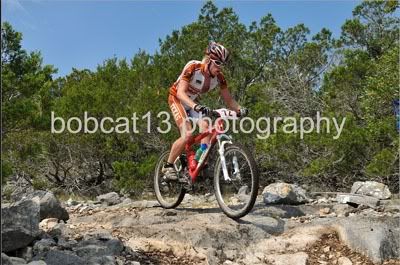 It was a great weekend overall, and its always nice to race against the other collegiate guys. Looking forward to doing it again this weekend at Huntsville!