But before we get to that, I raced the Singlespeed class at the first DORBA race last weekend!
I had no idea what to expect, so I started off just following the leaders. I went into the woods in third, and after a couple miles me and second passed the leader. That was the last time I saw anyone on bike until I flatted with 4ish miles to go and didn't have everything I needed to fix it...
But, I can say I most likely would have gotten second by looking at the time splits, and I missed out on a ribbon (OMG), so it isn't that big of a deal. I really need to quit getting flats though...
I like this picture: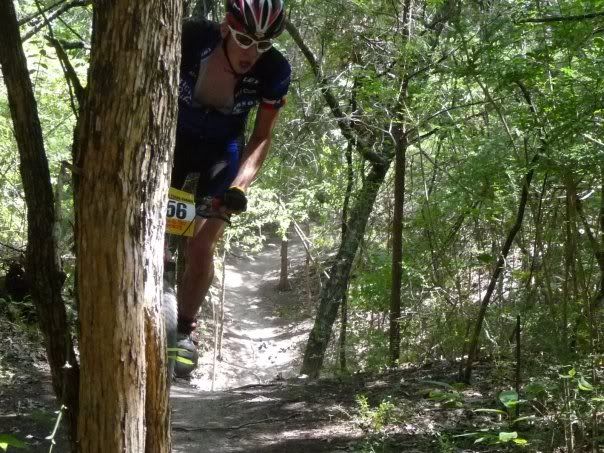 Courtesy of
Mom
Then a couple days later, I'm back in the ATX. Me and Joseph and my Dad built our bike rack, and it's awesome. But I'm not going to post any pictures so you have to come visit if you want to see it. DO IT. (You know you want to!)
Other than that, I went and rode yesterday and today (and dragged Joseph along today) and it is hot. Wait, I don't think you caught that...
IT.
IS.
HOT.
Much better.
More to come soonish. I promise!