Yesterday was the 2nd annual race at Reimer's Ranch, about an hour west of Austin. Unless you count the time it takes to get through the entry gate, then its about an hour fifteen away... Luckily, I had finagled my VIP parking pass out of the park rangers on Saturday (which is a whole story by itself. Maybe I'll write about it later this week.) and only had to wait for the people in front of me to convince the rangers that they were there for the race. Unlike like year, they believed that the VIP pass was real, and let me continue through without any incident.
Blah blah blah, getting dressed, warm up, etc.
The race started, and I jumped on Chris' (the guy who's winning the series) wheel, and was feeling just as good as I do at the start of any race. About ten minutes in though, I realized my legs were feeling a lot more sluggish than normal. I assumed I just hadn't gotten a good enough warm up and backed off a little, thinking as soon as I started feeling better I would just bridge back up to Chris.
The only problem was that my legs never got going. About half way through the first lap, Eric and some guy none of us had ever seen before caught up to me, and I started riding with them. At the beginning of the second lap, the random guy attacked, but eventually we caught back up.
We were coming up on a big headwind section, and I was in the lead. Thinking I would be smart I pulled over and let them get in front of me so I could draft. Then I got a cedar branch stuck between my crank and frame and I went down. Of course,I couldn't catch back up and had to ride into the headwind by myself anyway...
The whole third lap was a chase to see if I could catch those two, but the gap never got any smaller. Then I crashed again. In the same spot.
I rode to the finish with the leaders of the 30-39 group, who caught me not too long after the second crash, and came in 4th, a solid 4.5 minutes ahead of 5th (Wilder; who in all reality would have caught me if he hadn't flatted half way through the third lap).
All we could figure my "bad race" with a "pretty good result" could mean is that I raced like a real sandbagger. Since (I guess) you aren't supposed to do good/decent if you don't feel good.
Don't worry guys, I'll move up in the fall!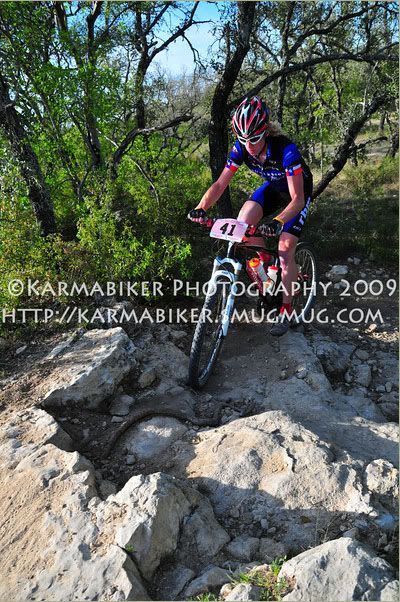 Oh yeah, I won a trackstand competition too! Got a sweet floor pump!