In lieu of my original riding plans for the day getting getting canceled, I decided to go mountain biking, and not really feeling like going to any of the regular choices, I thought I would go on an adventure and try out a trail that I had heard of, but never been to before.
This trail is located, crazily enough, in the middle of a neighborhood, and there are some unwritten rules that if you know where it is, you aren't supposed to tell other people, because eventually the riff-raff will get the information, and the HOA will get tired of them and close the trails... Soooooo, if you know what trail I'm talking about, you either already know where it is, or you want me to take you there (I might, just ask). If you don't know what trail it is, don't worry about it, you probably don't want to ride there anyway.
I got to a parking area, which probably wasn't the optimal place to park, but I knew the neighborhood was off limits, so it was good enough for a first visit.
Then I had a mile or so road ride to the actual trail head, which took me a bit of time to find. The road itself was already not a very easy ride.
The picture doesn't look like much, but on the way back to my car later, I snagged a picture of this sign at the top. Yeah.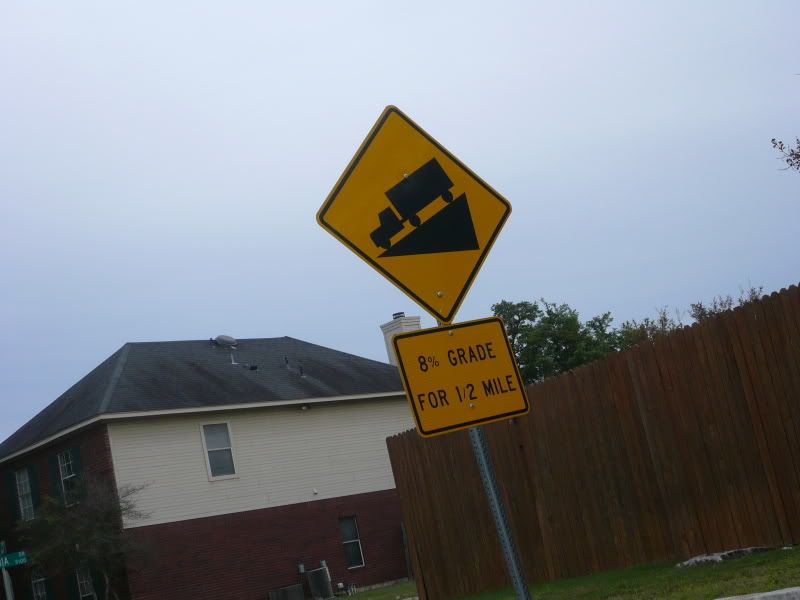 After I actually found the trail, it wasn't too hard to follow, but it was quite difficult in all other aspects...
There were a lot of rocks, but not unlike the greenbelt, there were only three or so spots that weren't easily ridable. Such as this type of stuff:
The hardest thing though was the climbing. If you weren't going uphill on this trail, you were going downhill and getting ready to go right back up again. And while this did make for some sweet places on the trail:
It also made the trail REALLY HARD.
Overall rating though, on a scale of 13 to Q, with the square root of 6 being the highest, I give it an I'll definitely be back.
Possibly the coolest spot on the trail: