I'll make the "I've been busy ...for the last month..." excuse. But as much as blogs are falling out of fashion, I really do need to be better about keeping on top of this.
Before I delve into every facet of my life for the last quite a while, here's a summary as a list of things that seemed to dominate everything that went on:
-Bikes
-Architecture
-ROAD TRIP
Well, that wasn't quite as helpful as I imagined it would be...
(Hey, at least I included something besides bikes and architecture, I almost didn't, but then I would've been lying or something, so, yeah.)
I'll also throw in the first Google Image result for "everything that's happened in the last month." To, you know, help clarify some more.
Right.
Moving right along...
In the world of architecture everything is coming along pretty good. My project completely changed three times before spring break, but now it's settled into a good steady position. We're starting on our 'Bay Model' this week - a giant section cut through our building. Mine is on the smaller side, at 12" x 30" x 14". So that is pretty much going to be dominating my life until Monday. There will be pictures! For seriously!
The bike part of life has seen my first two races with the Pro/Elite class. And that is a whole new world for sure.
Comfort was a stage race again, and my goal going in was a top 10 overall. I was close after Saturday with a 12 in the short track and 11th in the time trial, but Sunday was a different story... 17th in cross country... I was only 9 minutes off the winning time though, so I was still alright with that.
Two weeks ago was a new race - the Pace Bend mountain bike trail. I couldn't tell how the race would go just riding the course, so I went into it without much of a game plan.
The start was really short, so pretty much the entire group rode together for the first 4 miles or so before we hit a technical section and it got split up. I was still with around 6 people for the rest of the first lap, but eventually I followed an attack and got away from that group. The rest of the race wasn't anything special, just pass someone here, try not to get passed there, you know how it goes. I ended up 9th though! Got some sweet money! AND A RIBBON OMG!!!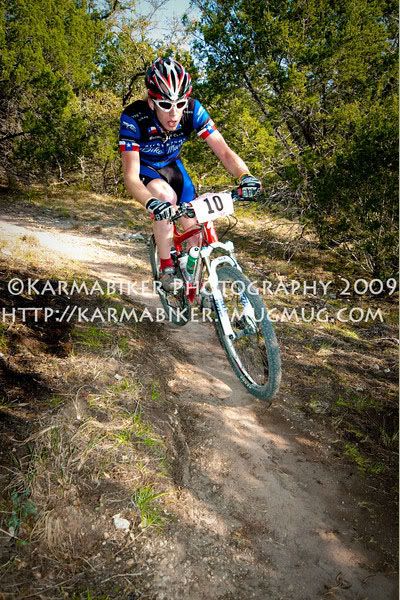 There was a race in Oklahoma I was going to do as part of my spring break road trip - first place singlespeed payed $500 and I was already going to be in that general direction. It ended up getting cancelled because of snow though...
But yeah, that road trip!
Since, umm, June, I think, I had been planning on using my spring break to drive up to Missouri to hang out with my BFF
Jill
Rachel. We did all sorts of awesome things! Like, watch a guy punch a cop in the face, then quickly get tazed, all while we were eating ice cream. And I went to a class at a school that I'm not even a student at. And we hung out in a tree.
And we went to her friends parents house where there was a cave. I don't know about anyone else, but I was expecting something along the lines of a big entry room, then maybe a 20 foot tunnel to another room that we would have to kinda crawl through.
Nope.
We're talkin' straight up hands and knees for an hour and a half each way, without actually getting to the end. We only turned around there because one of the girls had a dance to go to that evening and we were going to be pushing getting her back in time as it was...
Whew, this is getting long. (That's what she said.)
Anyway, continuing in not at all chronological order, last weekend was Rachel's spring break, so she returned the awesome and came down to the ATX for a couple days!
And we did more awesome things! Like take a good chunk out of the list of awesome places to eat here.
And go to a concert (Copeland's last tour ever).
And hang out at the Cathedral of Junk!
And at Mt. Bonnell.
And we did a lot of other cool stuff too, and we're officially dating now, and we... Sorry, kinda lost my train of thought there on that last one... Anyone that's known us for the past, like, eight months will probably be saying "well finally." But you know what, deal with it.
We do what we waaant.
That's a reference to something. I think. Don't worry about it, I don't.
Sooo yeah, theres that.
Umm, a song or two. Lets see...
'Lazy Eye' Silversun Pickups
'I Remember' Deadmau5 and Kaskade